Hey everyone!
Well a couple of days ago my friend sent me a message saying that I had been…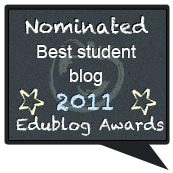 I was so excited! I actually didn't believe her at first but then I checked out the edublogs website and she wasn't lying! Thanks for everyone that nominated me! I really appreciate it! I personally think that everyone that owns their own class or individual blog should be congratulated! I reckon that everyone has an awesome blog!
Thanks again to everyone that has voted and nominated me for the Best student blog!